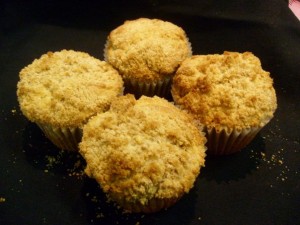 2 1/2 cups flour, divided
1/2 cup firmly packed brown sugar
2 tsp ground cinnamon, divided
14 tblsp butter, cut into pieces, softened, divided
1 tblsp baking powder
1/2 tsp salt
3/4 cup sugar
2 large eggs, room temperature
3/4 cup milk
1/2 tsp vanilla extract
Combine 1/2 cup flour, brown sugar and 1/2 tsp cinnamon in small bowl.  Cut in 4 tblsp butter until streusel is crumbly, set aside.
Sift together 2 cups flour, 1 1/2 tsp cinnamon, baking powder, and salt in medium bowl.  Mix sugar and 10 tblsp butter in a separate bowl.  Beat eggs, 1 at a time into butter mixture until well blended.  Add flour mixture alternately with milk, mixing until smooth.   Add vanilla.
Divide evenly among lined muffin pans, sprinkle top of muffin batter with streusel topping.
Bake at 350 degrees for 20 – 25 minutes.