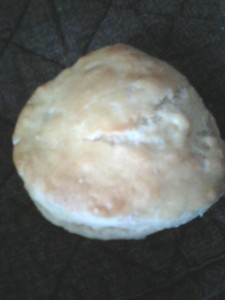 Pretty much my same basic savory scone recipe with a little twist.
2 1/2 cups flour
1 tbsp baking powder
1 tsp salt
1/2 cup butter/margarine
Cut butter into first 3 ingredients until pea sized mixture.
1 cup chopped banana peppers
1 tbsp chopped or minced garlic
2 tbsp butter
Saute and set aside.
3/4  (ish) cup milk
1 large egg
Beat together and add to flour mixture.   Stir and add sauteed peppers & garlic.  If dough is too dry, add a little more milk.  Turn out onto floured surface and kneed slightly (if dough is too wet, add more flour, but don't kneed too much or the scones will be tough).  Use round biscuit cutter (or an appropriate sized glass) to cut out 9 – 12 scones.  Bake at 400 degrees fore 17-20 minutes.
Experiment, experiment, experiment.  Try different things to make it the way you want it.  Follow the recipe or make it up as you go along.  Just have fun!