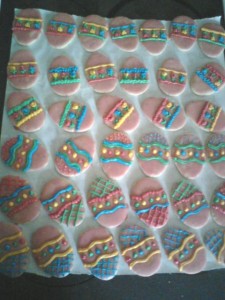 1 cup butter
1 cup sugar
1 tbsp fresh or dried lavender flowers (I leave them whole, but it's your choice)
1 tsp vanilla extract
1 large egg
2 tsp baking powder
1/2 tsp salt
3 cups flour
Preheat oven to 400F
In large bowl, cream butter, sugar, and lavender flowers. Beat in vanilla and egg. Add baking powder and flour, one cup at a time. Do not chill dough.
Divide dough into 2 balls. On floured surface roll each ball about 1/8 inch thick (or use cookie cutters as a guide).
Bake cookies on ungreased cookie sheet for 6-7 minutes, or until cookies are lightly browned. Remove to cooling racks. Cool completely before icing.
Honey-Blackberry Icing:
1 cup confectioner's sugar
2 tsp Torani Blackberry Syrup
2 tsp Honey
1/2 tsp water
Mix in small bowl. Add water by 1/2 tsp until desired consistency. Add more confectioner's sugar if too thin. Brush on cookies with pastry brush.